Rhytidectomy or Facelift Surgery in Bangkok, Thailand is the most effective and active approach of anti-aging surgery for improvement of nasolabial folds, deep wrinkles and droopiness of face that is hard to improve by minimal invasive methods.
The ultimate goal of face lift is not to pull the sagging skin only, but to pull overall sagging tissue including SMAS layer and fat layer along with sagging skin simultaneously to obtain permanent and certain effect.
****SMAS layer (Superficial Muscular Aponeurotic System) is a thin fibrous layer that is located between subcutaneous fat and muscle.
RECOMMENDED TO DO FACELIFT SURGERY IF: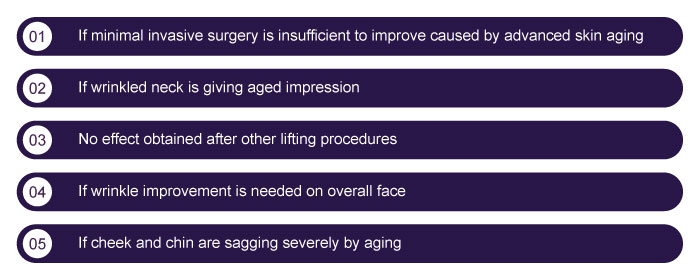 IF THE DEGREE OF SAGGING SKIN IS NOT SEVERE:
MACs lifting (Minimal Access Cranial Suspension Lifting) is a type of face lift that reduces the length of the incision from the classical face lift method and improves saggy cheeks and jaw line. MACs lift is developed from the concept that pulling the skin tissue vertically shows more effective than the horizontal orientation. Well-defined and constant lifting effect can be achieved by pulling SMAS layer which is known as the main cause of skin laxity in the face. MACs lift incises and remove sagging tissue in the fore part of the ear and weave soft tissue including platysma around neck and drooped SMAS layer under skin in a round shape by using special medical thread. Then, weaved tissues are fixed on the temporal fascia in the fore part of the ear to lift the sagging soft tissue upward. This surgical method is also called, 'Double lift' since MACs lift pulls not only the skin but also SMAS layer below the skin so that it is scaled-down and effect can last for a long time.​ ​
IF SERIOUS STAGE OF SAGGING SKIN:
SMAS LIFTING or Fasciectomy is not only pulling the sagging tissue including the fascia upwards but also suturing and removing the sagging fascia after equal desquamation in a wide range. Effect will be permanent and certain due to removal and suture after desquamation of SMAS layer.